Arboles UK and the new game changing tank fed shower!
Emergency shower, drench shower, emergency eyewash, safety shower, eyewash, decontamination shower, cubicle shower – call it what you will, but we guarantee you haven't seen anything like this before!! READ ON!!
A couple of months ago we launched the Entex Tank Fed Shower and momentum is gathering for the range which is incredible as it has been designed from the ground up. So what we've created is striking a chord with you out there!
The shower assemblies have been developed to be as flexible as possible. We offer numerous options which can be chosen as an accessory and even retro fitted at a later date – how about that for flexibility?!? Only the best materials and fittings have been used to ensure a long trouble-free service life. You have lockable inspection hatches and panels on the rear and the roof where you have easy access to all the internals and in the unlikely instance of any of the parts failing they can be swapped out easily enough. The tank fed shower has high visibility graphics with the optional internal and external lighting which means there is no mistaking where the products are located. We exceed the minimum requirement of 15 minutes of flow water by 2 minutes with our 2000 litre insulated tank.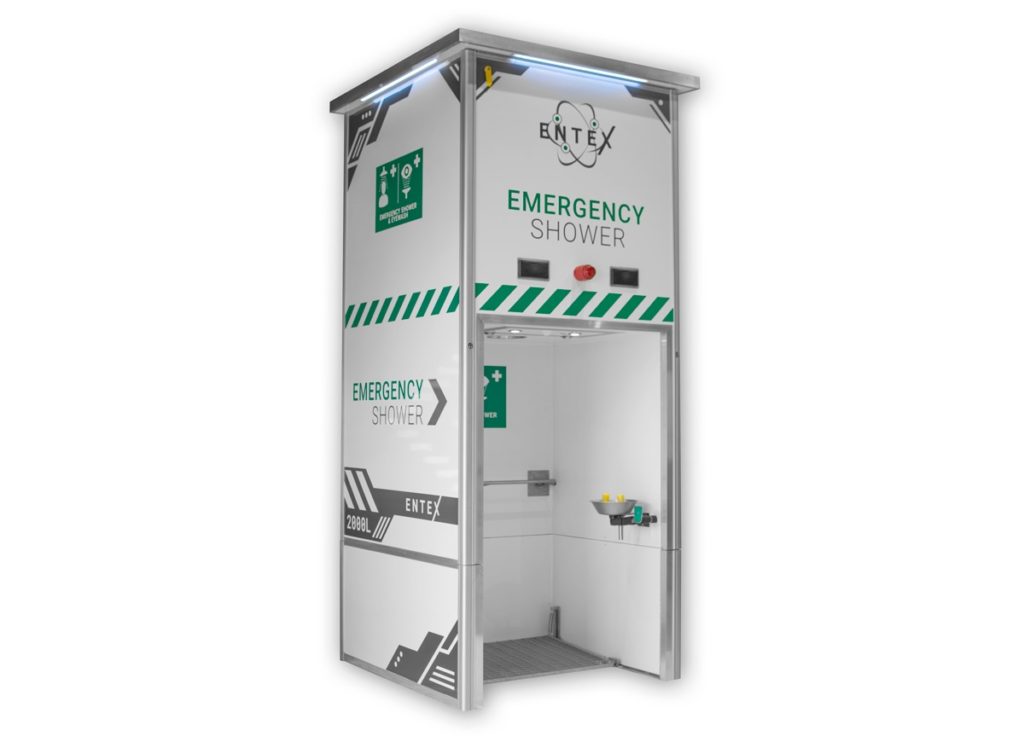 Installation is an absolute doddle regardless of where the tank shower is to be located or even moved. Check out the below:
Lifting eyes should you need to use a crane to place in your desired location(s)
Lifing pockets for forklift trucks
Two part detachable design making the installation process even easier
All parts are IP rated making it totally fit for purpose! RCD protection is as standard as is a fill indicator, M10 anchor points amongst another dozen or so features!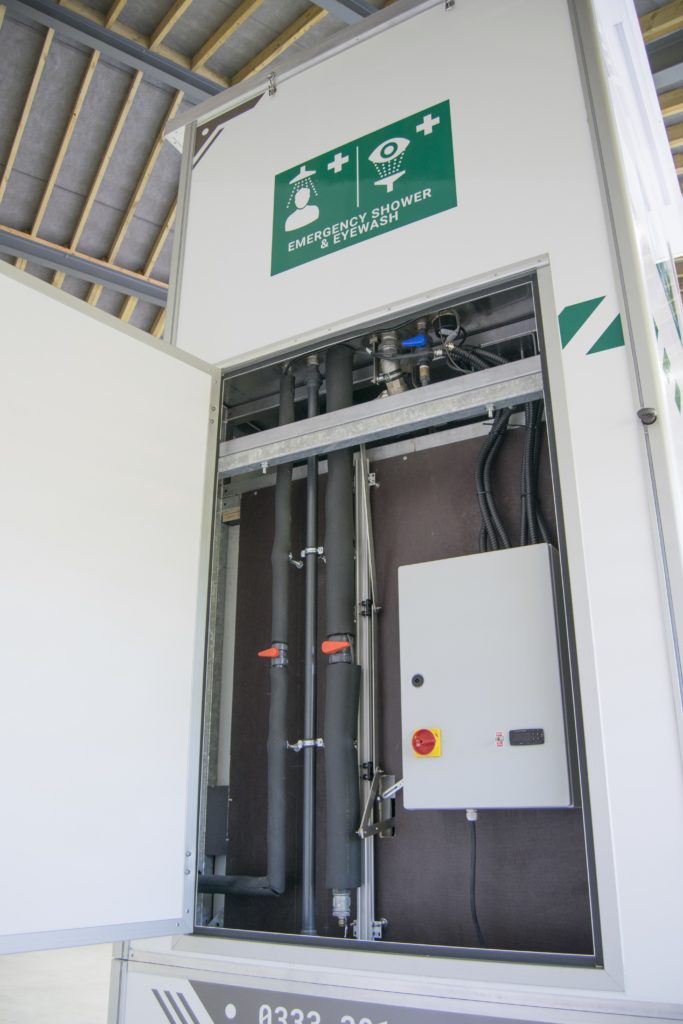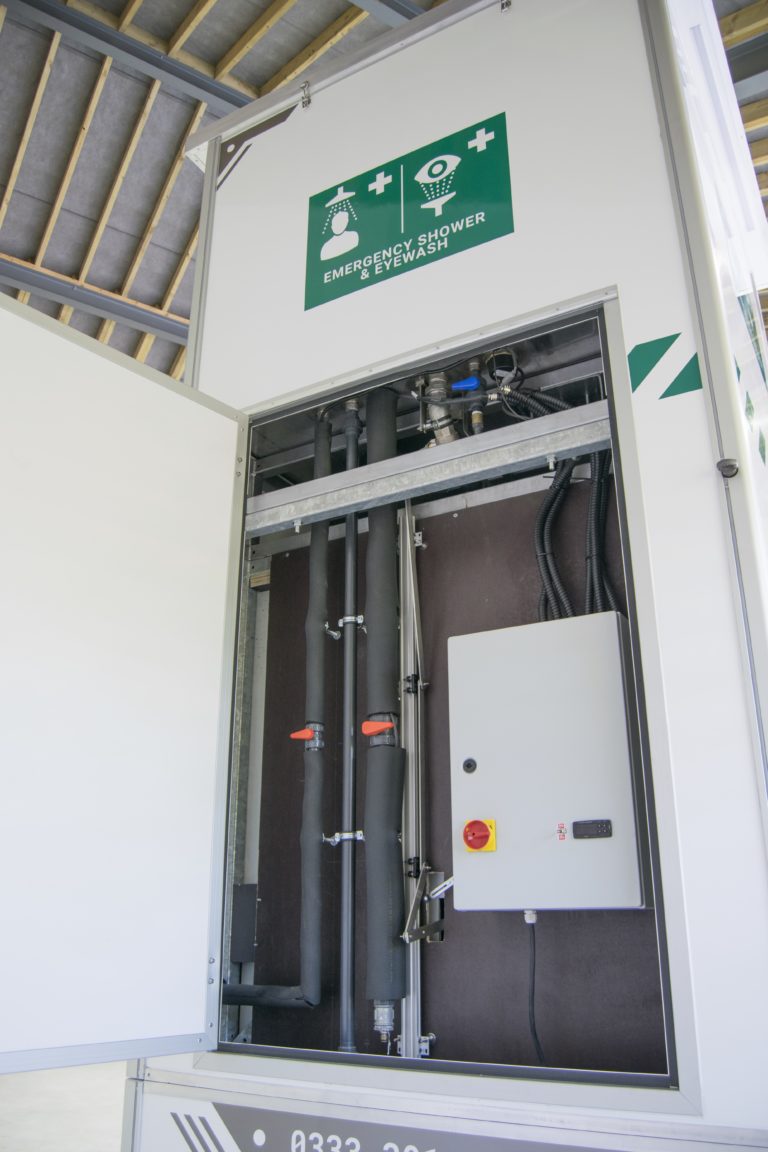 Things like trace heating and insulation come as standard, so there aren't frozen pipes, frozen valves come the harsh winter!
Unsure on what you need? Unsure on how to install it? Let us do that for you!! We can do a site survey for you and we can offer an installation survey all delivered with the usual Arboles UK fanatical customer service!
After that, if you need maintenance we can offer that too!! ANOTHER exciting feature is that through a subscription (just like Spotify!) you can have remote monitoring where you can test your showers with an app! You'll get full reporting and it can save you time and money on site visits as it can all be done from the luxury of your office, home…..or even holiday! Without getting too technical you can have the showers sitting as nodes on your local network either via structured cabling or wifi.
Want the emergency tank shower in a location where there isn't any network connectivity? No problem, we have a facility of a independent dynamic SIM for 4g or 5g connectivity. No mobile signal? Not a problem….it can be configured with a satellite SIM!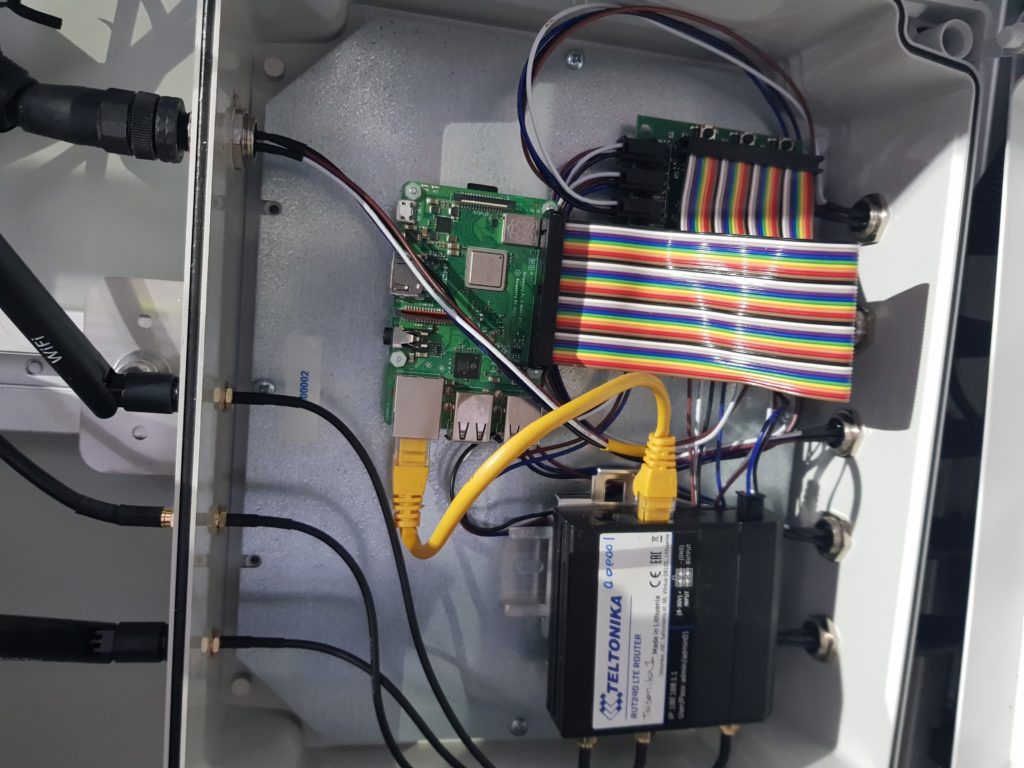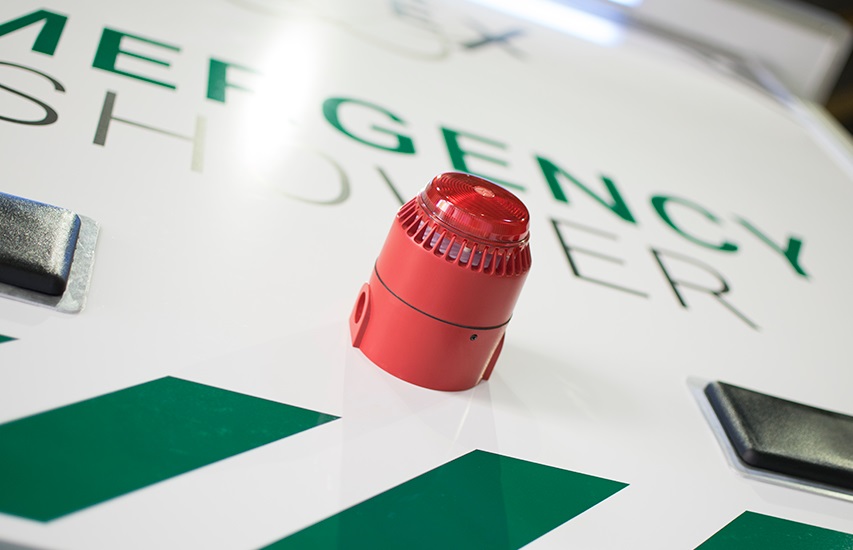 When we say we haven't left any stone unturned, we literally haven't!
There are two main assembly options for the drench shower, although extras are also available;
Tank Fed Shower Option One: This is the base model with the drench shower only. There are still a comprehensive range of features and clever thinking behind the design. Manufactured specifically for outdoor applications with particular emphasises placed on ease of function, durability and longevity.
Tank Fed Shower Option Two: With this optional all the major options have been included (including the emergency eyewash). Have a look at the feature list on the below link. Also included is the unique lighting feature that not only provides illumination but actually turns red in the event of an emergency activation.
Have a look at the emergency tank fed shower page here: https://www.arboles.co.uk/product/entex-2000-tank-fed-emergency-drench-shower/
Remember ALL optional extras can be retro fitted at a later date – back to what we was saying earlier about flexibility!
This is an exciting range of product and we know it's going to change the landscape of the emergency shower industry. The innovations have been spawned from feedback and evolution of customer requirements.
Want to know more??
Get in touch on 0044 (0) 1204 388 814 or via our Contact page.