Arboles UK: School laboratories part Cinco
Well, what a ride the past few months have been! Our staff have been as busy as ever working from home – this has been a learning curve in itself – anyone else realise how much information is gleamed by just chatting over a cup of tea?!? This would have been impossible if it wasn't for the expertise of bcn.co.uk.
We've seen our R&D range become increasingly popular as we have secured work for Covid 19 research all over the world, which is fantastic to be part of. This has involved a full range of products including Durapipe's Vulcathene, laboratory sinks and of course our WRAS approved laboratory taps.
Construction sites are slowly opening whilst following the government guidelines for work (if you need to find out more about this, then please click here) and this also includes the school / education sector. Over the past couple of weeks we've been shipping more and more products for school laboratory fit outs that are about to start. We've also had one job that has already been completed and they have kindly sent us a photo!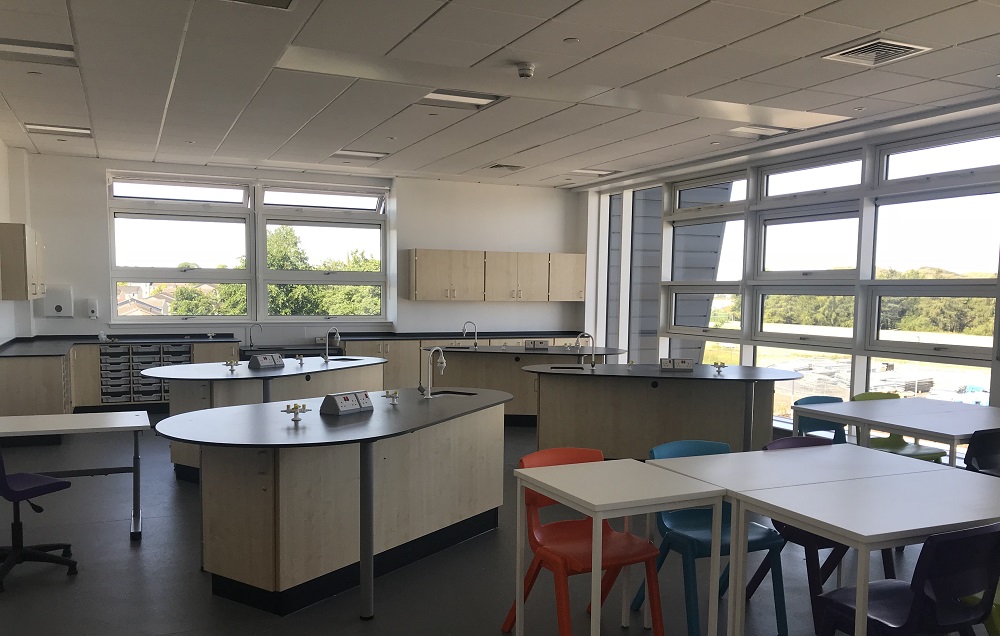 School laboratories do not need to be complicated and there really isn't a dark art to it! In this photo you can see the usual suspects which consist of our 4 way bench mounted drop lever gas tap (900034), the 2 way bench mounted gas tap (900033), the laboratory swan neck tap (902103) which also features the ONLY truly and fully WRAS approved back flow preventer (aka the 'anti siphon nozzle') the 900100.
Beneath the labortaory sinks you have the Vulcathene wastes and anti siphon bottle traps which carry the water off to the pipework. In essence, from our perspective there isn't much more to it. As a company Arboles UK can work with you from point of concept through to the installation. Design wise, we can offer BIM files for our products. You can either source these direct from us, via this site or via RIBA Product Selector.
If you have any school laboratory projects in the pipeline and you need help on which product set to choose then get in touch via our Contact Us page or go old school and give us a call on 01204 388 814.