How To Install An Emergency Shower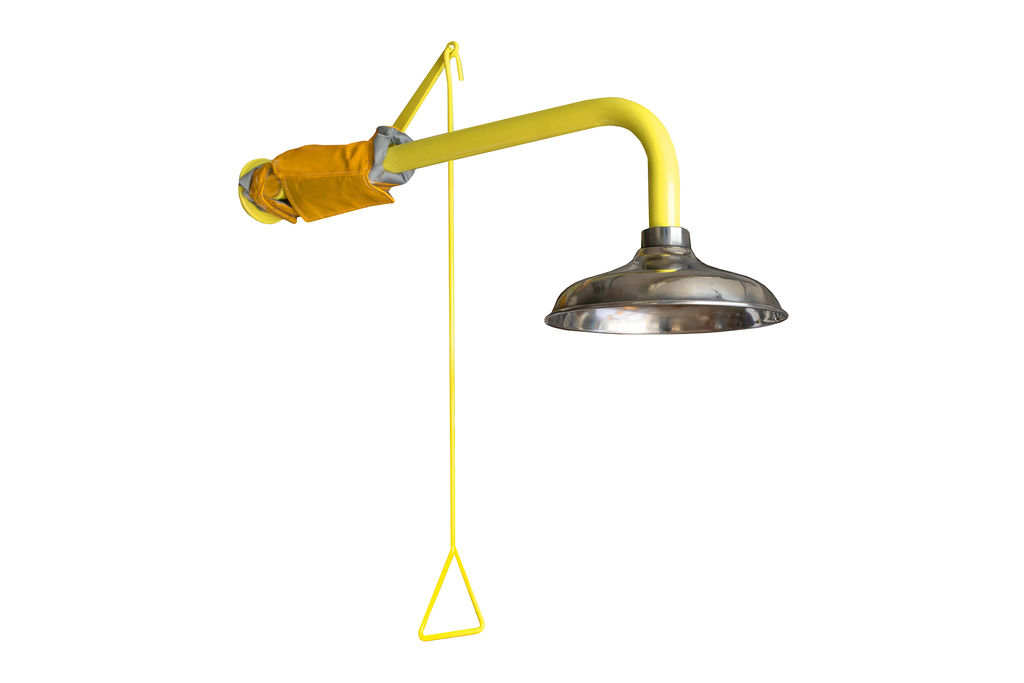 When it comes to the laboratory and other hazardous substance environments, safety is paramount.
Working with chemicals in any capacity has the potential to be hazardous, should you or your peers come into direct contact with a chemical substance.
In these instances, it's crucial that your laboratory or hazardous area is equipped with the means to rinse the chemicals away as quickly as possible and limit the potential for harm.
There are multiple types of emergency wash stations on the market, each suited to a range of laboratory and plant settings.
Emergency showers are one of the most powerful safety apparatus available to those working in a hazardous environment, allowing the user to quickly wash away any chemicals that they may have invertedly come into contact with.
If you believe that an emergency shower may be a beneficial addition to your own laboratory or plant environment, read on for a look at the many models available and for advice on how to pipe in an emergency shower.
Choosing the right emergency shower for your lab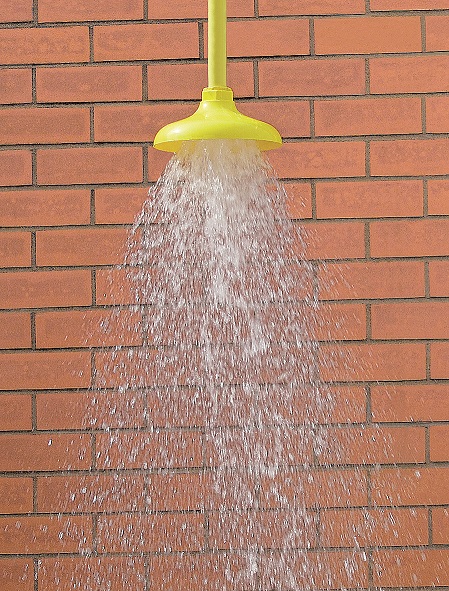 There is a wide range of emergency showers on the market, each with varying fittings, settings and capabilities.
The installation process of your emergency shower will be different depending on the model of shower that you use and where in the room the shower is mounted.
Here at Arboles UK, we offer a variety of emergency showers suitable for a range of settings.
Installing a tank fed emergency shower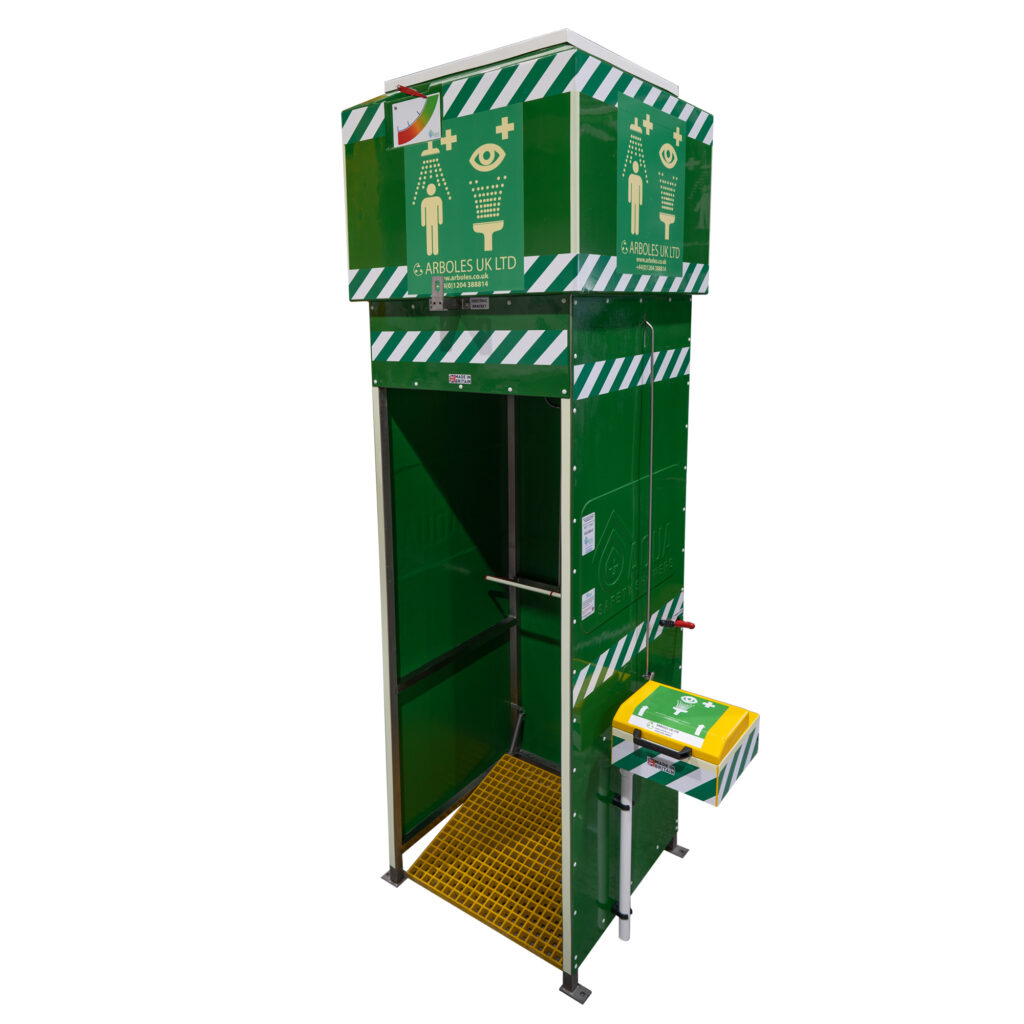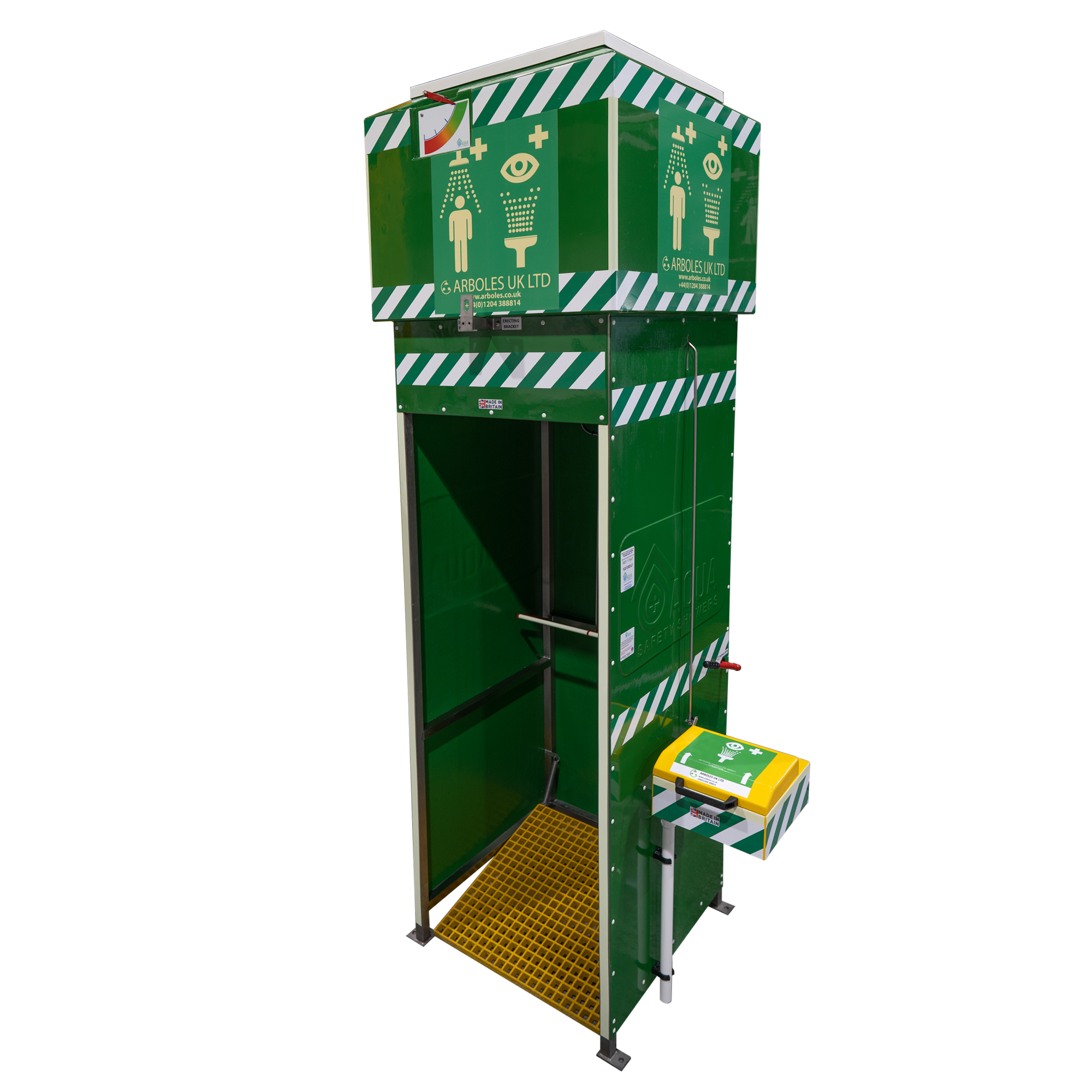 For those without the means to pipe in an emergency shower, a tank fed emergency shower is the obvious choice.
These safety showers take their water supply from an overhead tank, allowing for instant access without the need to connect the shower to the internal plumbing system.
Arboles UK supplies a range of tank fed showers, some with the capability to deliver constant tepid running water to a casualty for over 15 minutes, which meets and exceeds current ANSI standards.
For those looking for an all-in-one emergency wash solution, a tank-fed shower with a combined emergency eye wash station is a great option. These stations use the same overhead water tank as the shower itself, allowing for a reliable emergency eye wash solution even without the means to an internal water supply.
There's a tank-fed shower in the Arboles range for every setting. Those in need of our highest-specification all-in-one solution could benefit greatly from the 1500l Tank Fed Emergency Shower With Eyewash, Side-Panelling & Platform, while our 350l Tank Fed Emergency Shower With Eyewash, Side Panelling & Platform is a more compact solution for smaller laboratory environments.
Installing a ceiling, floor or wall-mounted emergency shower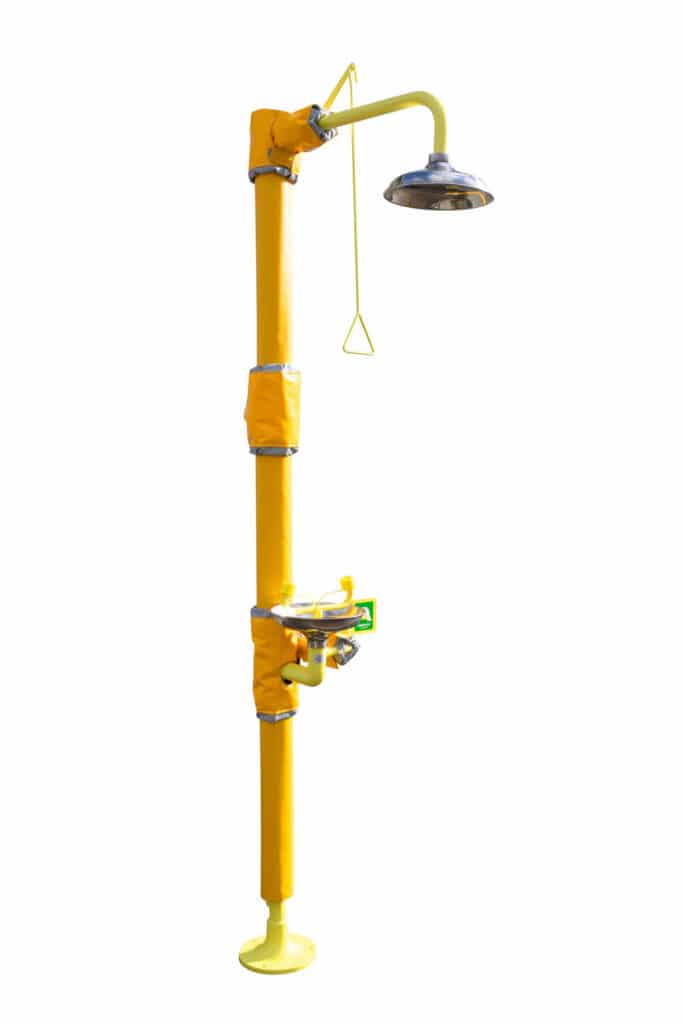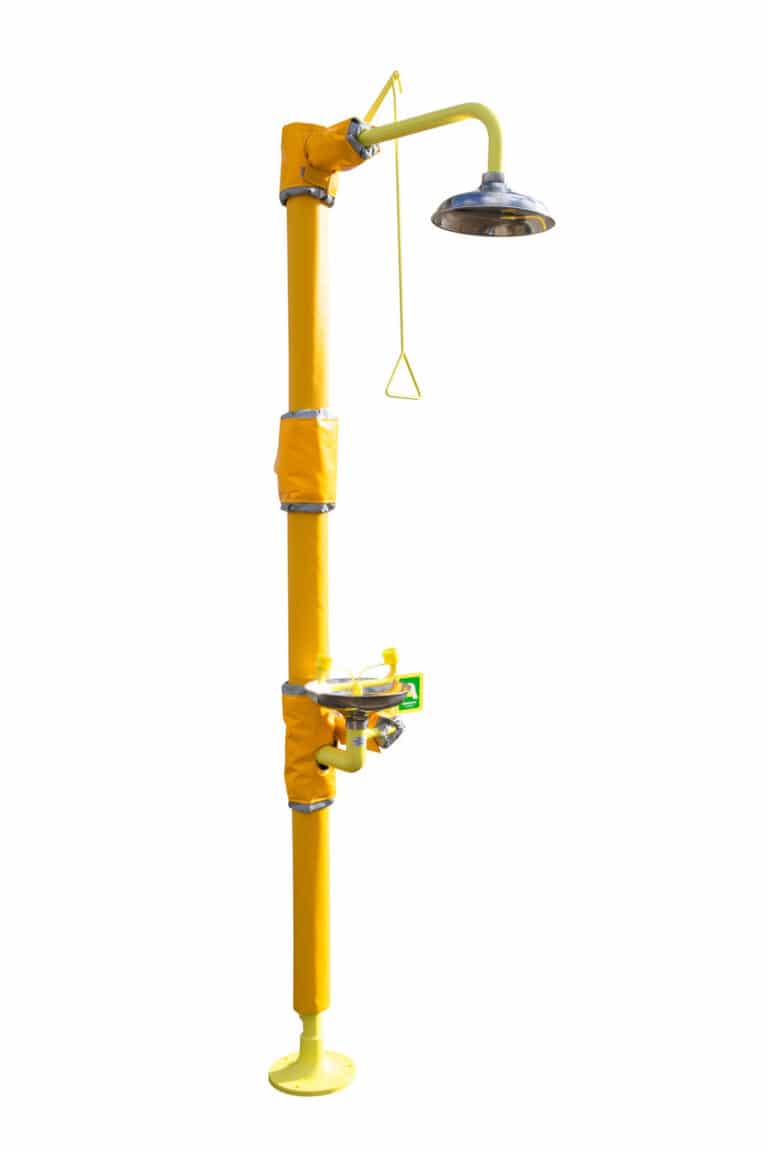 Installation is slightly more complex when it comes to ceiling, floor and wall-mounted emergency showers.
Our ceiling-mounted showers are the ideal solution for those looking to minimise the space that an emergency shower occupies.
The 1100 Ceiling Mounted Emergency Shower, manufactured using high-quality galvanised steel with a chemical resistant rilsan coating, should be installed at a height where the spray head is between 210cm and 230cm above the level where the user will stand.
For this reason, it's crucial to ensure that there is ample distance between the ceiling and floor if you are interested in this model.
Wall-mounted emergency showers are a great option for both indoor and outdoor settings where a separate eye wash station is available.
The 1100 Wall Mounted Emergency Drench Shower is hard-wearing and easily operated using the straightforward pull rod mechanism. This model can also have the Arboles UK Trace Heating & Insulation Kit retrofitted to prevent pipes freezing in the instance that the shower is fitted outdoors.
Finally, our range of floor mounted showers includes both simple drench shower models and models that include a combined eye wash station for an all-in-one solution.
The Floor Mounted Emergency Shower is a simple, yet incredibly effective option for settings that requires only a drench shower. This shower is operated using a straightforward pull-rod and will supply continuous running water until the pull-rod is returned to its original position.
For those requiring the addition of an included eye wash station, consider the 4250 Floor Mounted Drench Shower With Treadle Operated Eyewash. This model is just as simple to use throughout, even with its added eyewash capabilities, which are just as effective as those found in a dedicated emergency eyewash station.
How to pipe in an emergency shower
Before purchasing your shower, ensure that you have chosen the correct model for your laboratory environment by comparing the supply inlet with the one installed in your workspace. The models recommended above use inlets between 1" and 1 ¼".
It's also crucial that you consult the manufacturer's instructions for your chosen shower before beginning the installation process, as the directions will vary between models.
However, Arboles UK ceiling, floor and wall-mounted showers have each been designed with ease of installation in mind.
Our units are delivered in several parts which can be easily fit together in the order given in the included instructions. The diagrams provided include a clear indication of where the water supply should be connected to the unit, with some models including a second alternative supply connection point.
Once the unit has been fit to the supply point, use any recommended fastens or sealant to fix it into place.
Where should I fit my shower?
Ideally, your emergency shower and eye wash stations should be as close as possible to any areas where a potential hazard may occur.
In the event that someone within your working environment were to come into contact with a hazardous chemical, every second counts when attempting to limit the damage. For this reason, your emergency wash stations should be close by and ready to use immediately in the event that any accidents occur.
If your existing supply outlets are placed far enough from your workspace that any connected wash stations aren't immediately accessible, consider having additional outlets fitted before purchasing your emergency shower.
Additional information
To browse the full range of Arboles UK emergency showers and eye wash stations, visit the Emergency Laboratory Showers page here on our website.
For more information on any of our products or to speak with an Arboles adviser, contact us via phone, email or direct message today.
For more information on ANSI standards click on the link: https://ansi.org/